Director's Letter
V12N3
Welcome to the 47th edition of per Concordiam. When we planned an issue on strategic deterrence with a focus on nuclear weapons, we were unaware of just how topical the issue would become. We were aware that the fifth United States nuclear posture review would be completed before the issue was printed. However, we did not know that Russia, the state with the world's largest nuclear arsenal, would launch a large-scale war of aggression against Ukraine and that the world would have to consider how to react to threats of nuclear escalation.
The topic is presented writ large with a focus on strategic deterrence, Russia's nuclear forces, the emergence of China's nuclear forces and the potential implications of an era of high tension on cooperative measures, such as arms control. The experts contributing to this issue have a variety of links with the Marshall Center. Some have joined our programs as speakers or participated in our Strategic Competition Seminar Series, while others share their expertise here for the first time.
Marshall Center faculty member Dr. Pál Dunay conceptualizes the topic and provides a framework for analysis. Dr. Pavel K. Baev, of the Peace Research Institute Oslo, presents a detailed picture of the development of Russian nuclear forces. Dr. Maxim Starchak, a fellow at the Centre for International and Defence Policy of Queen's University in Canada, addresses a matter that keeps reappearing on the agenda: the potential for forward deployment of Russian nuclear forces to Belarus. Martin Verrier, a Royal United Services Insitute fellow, complements the picture with a historical analysis of Russian covert operations.
Dr. Brian G. Carlson, head of the Global Security Team at the Center for Security Studies, takes stock of China's growing nuclear capacity. U.S. Air Force Brig. Gen. Glenn T. Harris and U.S. Army Maj. John Yanikov present the case for modernizing U.S. nuclear capabilities, with an emphasis on deterrence. Dr. Anna Péczeli, of the Lawrence Livermore National Laboratory, contemplates the need for seeking strategic stability among the most powerful nuclear powers. And U.S. Army Col. Jeffrey W. Pickler makes the case that a whole-of-society approach is needed to mitigate Russia's aggression.
This issue of per Concordiam provides a sobering account very much in the spirit of our time. We hope that the moral inhibition and reasons not to employ the world's deadliest weapons will prevail, as it has for more than 77 years.
Sincerely,

Barre R. Seguin
Director
---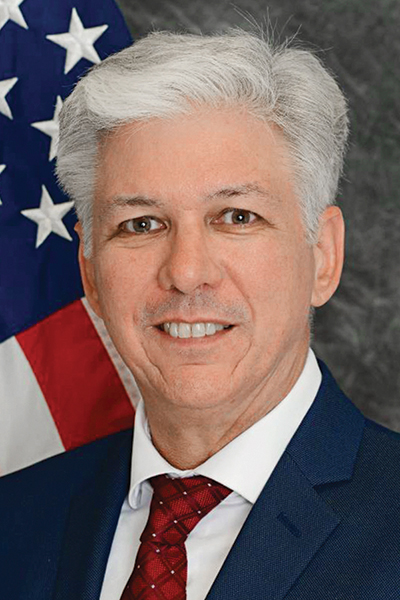 Barre R. Seguin retired from the U.S. Air Force as a major general in October 2020 after more than 31 years of active service. His last assignment was as the Deputy Chief of Staff, Strategic Employment, Supreme Headquarters Allied Powers Europe, Belgium. He entered active duty in 1989 as a distinguished graduate of the Reserve Officer Training Corps after graduating from the State University of New York at Potsdam. His flying assignments included serving as a flight examiner, instructor pilot, wing chief of safety and operations officer, with commands at the squadron, group, wing, and Air and Space Expeditionary Task Force levels. His command and staff positions included Commander, 9th Air and Space Expeditionary Task Force-Afghanistan and the NATO Air Command-Afghanistan, Kabul, Afghanistan; Director, Strategy, Engagement, and Programs, U.S. Africa Command, Stuttgart, Germany; Commander, 31st Fighter Wing, Aviano Air Base, Italy; and Inspector General, Headquarters Air Combat Command.