Director's Letter
V11N4

Welcome to the 44th edition of per Concordiam. In 1992, then-Russian Foreign Minister Andrei Kozyrev predicted in an influential article in Foreign Affairs magazine: "No doubt Russia will not cease to be a great power. But it will be a normal great power. Its national interests will be a priority. But these will be interests understandable to democratic countries, and Russia will be defending them through interaction with partners, not through confrontation. In economic matters, too, once on its own feet and later, after acquiring a weight commensurate with its potential in world trade, Russia will be a serious economic competitor to many but, at the same time, an honest partner complying with the established rules of the game in world markets."
As this issue illustrates, that vision of a post-imperial "normal great power" has not emerged. The issue begins with a framework by Dr. Graeme P. Herd, chair of the Marshall Center's Research and Policy Analysis Department, for understanding Russian strategic behavior in its self-identified "sphere of influence" in this era of great power competition.
The issue then moves to different case studies that illustrate Russia's core strategic goals, as well as the ways and means it employs to achieve those ends. The first is by Lt. Col. John Berger, a U.S. Air Force fellow at the Marshall Center, who examines Russia's crisis diplomacy and coercive mediation toward Belarus. The second is a joint analysis by three Marshall Center faculty — Dr. Herd, Dr. Pál Dunay and Dr. Cüneyt Gürer — assessing the consequences of the Nagorno-Karabakh conflict in 2020. Following that, a group of distinguished Marshall Center alumni scholars — Dr. Nikola Brzica, Dr. Olivera Injac, Endrit Reka, Dr. Vasko Shutarov and Nikola Veličković — examine Russian disinformation in the Balkans and how to counter it.
The focus then shifts to evolving great power relations. Dr. Nika Chitadze, a professor at the International Black Sea University and Marshall Center alumni, focuses on United States-Russia relations. Lt. Col. Ryan B. Ley, another U.S. Air Force fellow, asks of the functional if not friendly Russia-China axis: Are they aligned or allied? Dr. Paweł Bernat, who lectures at the Polish Military University of Aviation, takes both these themes into outer space, providing an analysis of Russia's strategic shift in space policy away from the U.S. and toward China. Lastly, Dr. Cyprian Aleksander Kozera, assistant professor at the War Studies University in Warsaw, highlights the relationship between Russia's use of proxy forces and great power competition in Ukraine, Syria, Libya and the Central African Republic.
It is with pleasure that I recommend reading this issue for insights and understandings of Russian strategic behavior in our era of great power competition. As always, the Marshall Center welcomes comments and perspective on these topics. Please feel free to contact us at editor@perconcordium.org
Sincerely,

Barre R. Seguin
Director
---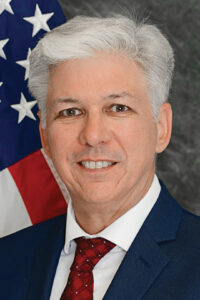 Barre R. Seguin retired from the U.S. Air Force as a major general in October 2020 after more than 31 years of active service. His last assignment was as the Deputy Chief of Staff, Strategic Employment, Supreme Headquarters Allied Powers Europe, Belgium. He entered active duty in 1989 as a distinguished graduate of the Reserve Officer Training Corps after graduating from the State University of New York at Potsdam. His flying assignments included serving as a flight examiner, instructor pilot, wing chief of safety and operations officer, with commands at the squadron, group, wing, and Air and Space Expeditionary Task Force levels. His command and staff positions included Commander, 9th Air and Space Expeditionary Task Force-Afghanistan and the NATO Air Command-Afghanistan, Kabul, Afghanistan; Director, Strategy, Engagement, and Programs, U.S. Africa Command, Stuttgart, Germany; Commander, 31st Fighter Wing, Aviano Air Base, Italy; and Inspector General, Headquarters Air Combat Command.