The Prospects for a Nuclear Forces Deployment

To

Belarus
By Dr. Maxim Starchak, fellow at the Centre for International and Defence Policy of Queen's University in Canada
Photos by The Associated Press
On December 17, 2021, with the publication of its draft agreements on security guarantees, Russia delivered an ultimatum to the United States and NATO: If you refuse to consider Russia's security proposals, a number of military-technical responses can be expected. According to Russian President Vladimir Putin, the general staff of Russia's armed forces developed several responses, the first being the military invasion of Ukraine. Because Moscow considers nuclear weapons to be the basis of its military power, another of those responses may be the deployment of nuclear weapons to Belarus to counter NATO. That possibility became more likely when, after a formal request by Belarusian President Alexander Lukashenko, Putin announced on March 25, 2023, that Russia would deploy nuclear weapons to Belarus, although he provided no timeline. With the potential for nuclear escalation in Europe heightening, it is important to take a closer look at the threats emanating from Moscow's new military capabilities in Belarus.
Strengthening military integration
Belarus plays a crucial role in Russia's strategic military planning. It offers a buffer zone against NATO, an operational space and a land bridge to Kaliningrad in the event of a conflict. That is why military control over Belarus is a matter of great importance to Moscow. In 1999, the Regional Group of Forces of Belarus and Russia was established under the Collective Security Treaty Organization (CSTO). It includes all of Belarus' armed forces and the 20th Guards Army of Russia's Western Military District. Until recently, the Russian military carried out temporary tasks in Belarus and participated in exercises, but then returned to bases in Russia. However, the deterioration of NATO-Russia relations prompted Moscow to prepare for the deployment of Russian forces to Belarus. In 2018, Russian foreign minister Sergei Lavrov and then-foreign minister Vladimir Makei of Belarus expressed concern about NATO's military activities and Washington's intention to withdraw from the Intermediate-Range Nuclear Forces Treaty (INF). Later that year, Putin approved the draft of a new Military Doctrine of the Union State of Belarus and Russia.
However, pressure from Moscow to deepen the integration of the two countries led Minsk to postpone signing the doctrine. That hesitance changed in August 2020 after mass demonstrations by Belarusians dissatisfied with the results of the presidential election, and after the international community's condemnation of the government's harsh crackdown on protesters. Russian Tu-160 strategic bombers began patrolling the western borders of Belarus and Tu-22M3 long-range bombers made simulated bombing runs, adding to European security concerns. In November 2021, Belarus' ministry of defense reported that the Russian strategic bombers would conduct regular flights along Belarusian borders, a move considered to be a reaction to military activity by neighboring countries.
Lukashenko had already approved a new plan for using the Regional Group of Forces. The plan clarified the group's combat composition and weapons arsenal, deployment options and use of formations and units. Apparently, Moscow and Minsk have also outlined options for the use of nuclear weapons to repel perceived NATO military threats. Alexander Volfovich, secretary of Belarus' State Security Council and former chief of the armed forces general staff, said the Regional Group of Forces is now considered a mechanism of strategic deterrence, as well as a force for repelling large-scale aggression against the Union State. Stanislav Zas, the CSTO secretary-general, also calls the Russian-Belarusian military exercises and the CSTO exercises in Belarus strategic deterrence measures. These statements indicate that the Iskander missile systems of the 20th Guards Army can be equipped as nuclear carriers if necessary.
Also in 2021, the ministries of defense of the two countries adopted a five-year strategic partnership. It consists of more than 160 measures for the military-technical and military-economic integration of Belarus and Russia. Agreements were signed that established three joint military training centers and extended the use of Russian military facilities in Belarus (the Radio Engineering Center at Gantsevichi and the 43rd Communications Center at Vileika).
Moscow's support of the Lukashenko regime during the 2020 mass demonstrations strengthened its military presence in Belarus. Also, amendments to Belarus' constitution that were proposed by Lukashenko and approved in February 2022 mean that Belarus is no longer a neutral and nuclear-free state. Politically and militarily, the country is coming under control of Russia. By July 2022, Lukashenko was openly admitting that a unified army had been created with Russia.
Military Doctrine of the Union State
The new military doctrine of the Union State, adopted in November 2021, states: "The Russian Federation and Belarus consider any violent actions directed against one of the participants as an encroachment on the Union State, and will take retaliatory measures using all the forces and means at their disposal." In fact, it can be said that Russia now undertakes to ensure the security of Belarus by any means, including with nuclear weapons. This partly duplicates the obligations on collective security within the framework of the CSTO.
The new doctrine reveals what the Union State considers its most serious threats: the deployment of NATO military formations in neighboring states; the refusal of individual states to participate in international arms control treaties; the deployment of strategic missile defense elements; the implementation of the global strike concept; the deployment of weapons in space; and the deployment of strategic nonnuclear precision weapons systems. These dangers are copied from Russia's military doctrine. However, the doctrine says that Russia will counteract these threats by maintaining nuclear deterrence at a sufficient level. There is no mention of that in the Military Doctrine of the Union State. Instead, the Union State is creating and developing the Regional Group of Forces and improving the joint use of military and transport infrastructure facilities. This is confirmed by the Military Doctrine of Belarus, in which the use of force is determined by its international treaties with Russia and is decided by the Regional Group of Forces. In other words, how and by what means the Regional Group of Forces responds to threats is decided exclusively by Moscow.
One of the main differences between the old and the new version of the Union State's Military Doctrine is that, instead of the unified development of the national armed forces, the new doctrine focuses on the development of a regional group and its joint use. There was an opportunity to create a joint command of a regional group, and there was at one time an item on preserving national command of troops, but that disappeared. Given that the regional group includes all the armed forces of Belarus, the new doctrine gives Moscow the opportunity to integrate the armed forces of Belarus into the armed forces of Russia. The practice of operational control of Belarusian troops has already been worked out by the Russian command at various joint Russian-Belarusian exercises. As for nuclear weapons, nothing is mentioned in the new Union State Military Doctrine about the reasons for their use; it remains solely Moscow's decision. At the same time, nuclear weapons have become an important factor in deterring even conventional military conflicts.
Tactical nuclear weapons
The role of nuclear weapons as a means of preventing large-scale aggression was revealed during Russian-Belarusian military exercises. In the 1990s, against the backdrop of a sharp reduction in conventional armed forces, Russia's dependence on its nuclear forces became more pronounced. The general belief was that the Russian conventional armed forces had limited combat usefulness in the event of large-scale aggression against Russia or one of its allies. This was due to both a decrease in the size of the armed forces and their technological obsolescence. Tactical nuclear weapons, designed for limited strikes during battle, became operational weapons. Moreover, the Russian foreign ministry considered the redeployment of tactical nuclear weapons to Belarus and Kaliningrad and to naval vessels in the Baltic Sea as a response to NATO's expansion. While that did not happen, the Zapad-1999 exercise simulated an attack by Western forces on Belarus and the first use of nuclear weapons to deescalate such a conflict. The exercise had bombers launching cruise missile strikes against operational targets to put an end to a local conflict before it escalated into an exchange of the larger, more lethal strategic nuclear strikes. It confirmed that Russian nuclear weapons would protect Belarus if necessary. Two years later, the use of nuclear weapons to prevent large-scale aggression became part of the Military Doctrine of the Union State.
Russia's interest in using tactical nuclear weapons to repel aggression against Belarus became evident during the joint Union Security-2004 military exercise. As part of the exercise, virtual strikes with tactical nuclear weapons were part of a plan to repel a surprise offensive by superior enemy forces, an indication that the weapons could be used against enemy troops. The creation of the Iskander missile system provided further evidence of Russia's growing interest in tactical nuclear weapons. The system is capable of delivering a nuclear warhead and is considered a replacement for the Russian Oka missile system removed during the INF Treaty's implementation. In 2006, Lukashenko confirmed that tactical nuclear weapons could be used in the event of aggression against Belarus. Over the years, strategic Russian-Belarusian military exercises, such as Zapad-2009, Zapad-2017 and Zapad-2021, have confirmed the possibility that such weapons could be used in a conflict.
Until recently, nuclear weapons were considered part of Russia's military theory. Now, with Belarus' increasing military dependence on Russia and the deployment of the Iskander and Su-24 platforms, all joint and national exercises between the countries will include a nuclear component, increasing the pressure on the West by making the nuclear threat that much greater.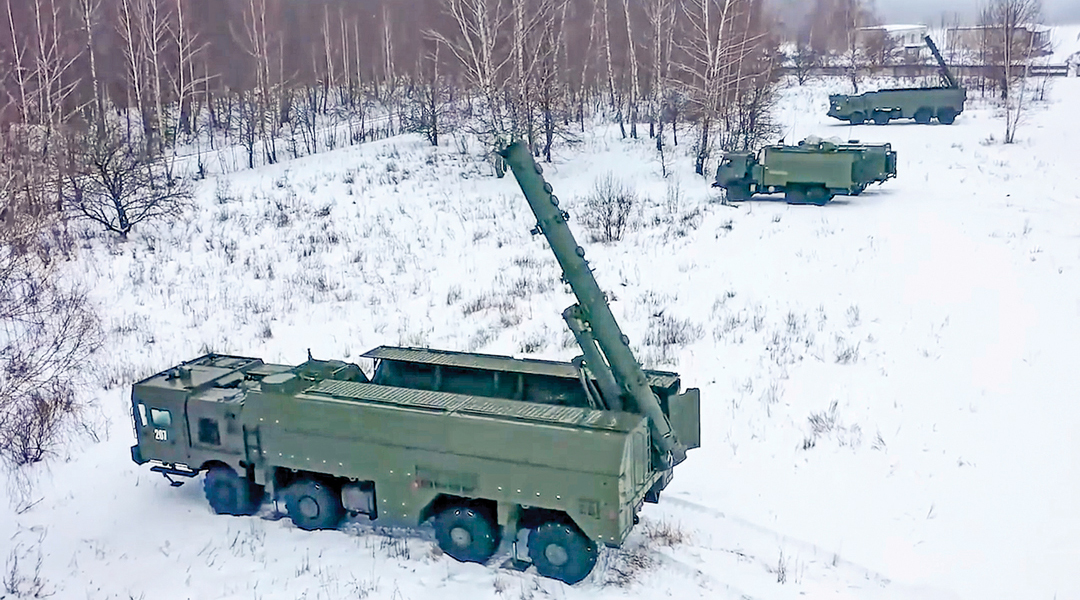 Russian military basing in Belarus
If Russia deploys nuclear warheads to Belarus and creates a base for their storage, this will become a mechanism for the permanent presence of Russia's armed forces in Belarus. Russia has long wanted to have a military base in Belarus because it would improve its forward presence and serve as leverage over Belarus' leadership.
Sergei Shoigu, Russia's defense minister, first announced the possibility of opening a Russian air base in Belarus in April 2013. The rationale, according to Shoigu, was "the need to confront a new range of challenges and threats." An agreement for the air base was expected to be signed in 2015. A draft agreement indicated that Russia would be allowed to deploy all types of weapons to Belarus (including weapons of mass destruction) at any time and in any quantities, and under Russia's full jurisdiction. However, Russia's annexation of Crimea in February 2014 caused Lukashenko to fear for his own power and he ended any further integration. Additionally, Belarus was not considered an important target for potential enemies. Lukashenko probably understood that hosting aircraft and missile systems capable of carrying nuclear weapons would immediately turn Belarus into a target.
For example, in March 2021, when the signing of the strategic partnership program restarted talks about a possible Russian military base, Lukashenko opposed it. In August that year he declared that the Russian military base would never be located in Belarus because it could be easily attacked from territory in Poland and Lithuania. Several months later, Belarusian Defense Minister Viktor Khrenin said there was no need for Russian military bases because the two countries had developed different mechanisms for interacting militarily within the framework of the regional grouping of forces.
Apparently, Lukashenko understands that Russia controls the military infrastructure of Belarus. As the invasion of Ukraine has shown, Moscow can choose any airfield and base in Belarus, gain a foothold there and use it for its own purposes. This means that nuclear weapons deployment to Belarus no longer depends on Lukashenko. Russia can create a nuclear warhead storage base in Belarus under the protection and control of Russia's military.
Russia's position
The idea of deploying nuclear weapons to Belarus was voiced in 2007. Then, Russia was looking for an answer to the deployment of U.S. missile defense systems in Eastern Europe. Col. Gen. Leonid Ivashov, former head of the Main Directorate of International Military Cooperation of the Russian defense ministry, offered to deploy tactical nuclear weapons to Belarus, reasoning that the deployment would not turn Minsk into a nuclear power and would therefore not violate international obligations. At the end of 2007, statements were made from Minsk and Moscow about the imminent delivery of the Iskander system to Belarus. Lt. Gen. Nikolai Rodionov, former commander of the Soviet Union's missile defense corps, said the possible deployment of Russian nuclear missiles to Belarus was an adequate response. "In addition to the purely military factor, this would psychologically affect the attitude of the population of Europe to the planned construction of U.S. missile defense facilities on the territory of these countries," he said.
Also in 2007, Alexander Surikov, Russia's then-ambassador to Belarus, said that Russia could place nuclear weapons facilities in Belarus, a contention that is repeated today. Dmitry Peskov, Putin's press secretary, said the possible deployment by NATO countries of nuclear weapons to Eastern Europe would require an appropriate response. After Lukashenko said in November 2021 that he might accept nuclear weapons in Belarus, Lavrov said the West should consider the statement "as a very serious warning which is dictated, first of all, by the reckless policy pursued by the West." In other words, Moscow is considering the possibility of deploying nuclear weapons to Belarus and expects that such a threat will have an impact on the West. By the end of December 2021, Russia's foreign ministry said it would allow the deployment of nuclear weapons to Belarus if negotiations between Russia and the U.S. failed. When negotiations did not take place, and Russia entered into an active confrontation with the West, the deployment of certain weapons to Belarus became a foregone conclusion.
Belarus' nuclear rhetoric
At the "For a Future without Terrorism" conference in Minsk in 2019, Lukashenko announced that Belarus is a full participant in the INF treaty. "We have not left it and do not intend to produce or deploy such missiles if they do not threaten our security. There is no such situation yet. I hope it won't be," he said. However, Lukashenko believes the situation has changed.
After the international condemnation of Lukashenko's brutal suppression of the mass demonstrations in protest of the 2020 presidential election in Belarus, he began to believe that there was a threat to the country's security, and that NATO is systematically building an offensive military infrastructure along his country's borders. When he learned in November 2021 about the possible transfer of American nuclear weapons from Germany to Poland, he told the Russia Today news agency that he would propose to Putin the return of nuclear weapons to Belarus.
Several months later, Lukashenko warned that threats to Belarus would be met not only with nuclear weapons, but also with "super-nuclear" weapons in Belarus. In April, after Russia invaded Ukraine and after learning that Polish leaders had said they would be open to hosting U.S. nuclear weapons, Lukashenko pressed Putin for information about reports that the West planned to attack Russia through Ukraine and Belarus. In June 2022, he expressed concerns about U.S. and NATO aircraft capable of carrying nuclear warheads.
Addressing the National Assembly on March 31, 2023, Lukashenko said that he would preserve and ensure sovereignty and independence in any way possible, including with a nuclear arsenal. However, this was an attempt to convince the Belarusian population that he would be in control, although that stopped being true long ago. In addition, Lukashenko has stated twice in the past 16 months that Soviet-era Topol strategic missile sites had been restored to be fully operational. This bragging is an attempt to raise his profile in the eyes of the West and to show Putin that he is a loyal partner who is ready to increase his country's role in Russia's conflict with the West. In fact, most of the nuclear sites in Belarus have been destroyed, and the deployment of ICBMs in Belarus would have no military value. Strategic missiles located in Russia have the necessary range, and deploying them in Belarus is financially burdensome.
Russia's answer
In June 2022, Putin raised the stakes in his confrontation with the West by deciding to re-equip Belarusian aircraft to carry nuclear weapons, and to transfer to Belarus the Iskander missile system capable of launching ballistic and cruise missiles that are either conventional or nuclear. Months later, Lukashenko confirmed that Russia had transferred the Iskander system to Belarus, and that Su-24 aircraft had been retrofitted and Belarusian crews were being trained. Belarus also received an unspecified number of Russian S-400 anti-aircraft missile systems. Together with the Su-30SM fighters and Protivnik-GE radar, this indicates that Moscow is creating a safe zone in Belarus for its weapons, some of which may be nuclear.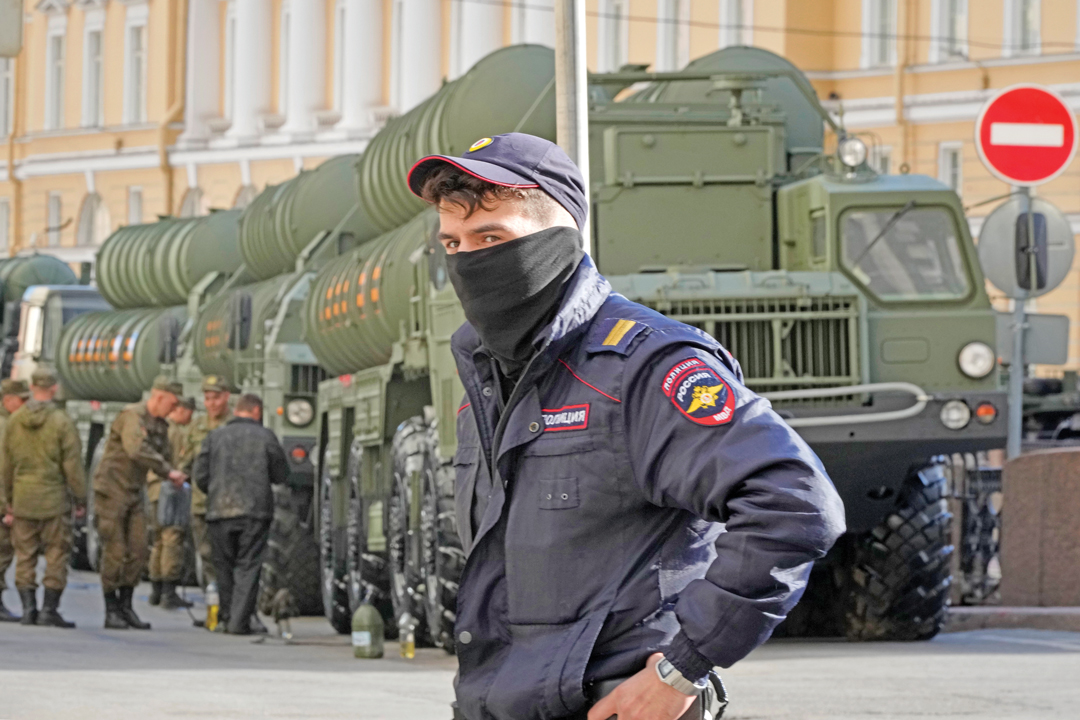 Moscow had refused Lukashenko's previous requests for the Iskander missile system. Russia's decision to supply Iskanders may have been a response to the U.S. sending its High Mobility Artillery Rocket Systems to Ukraine. It could also be a warning to the West not to provide Ukraine with nuclear warheads. Based on Putin's statements and those of Col. Ruslan Chekhov, head of the Missile Troops and Artillery Department of the Belarusian General Staff, it appears that Russia has taken the unprecedented step of transferring the Russian version of the Iskander system to Belarus rather than an export version. If so, Russia is in violation of the Missile Technology Control Regime (agreed to by 35 countries, including Russia), which prohibits the export of missiles with a range of more than 300 kilometers. However, Russia may try to circumvent this by saying that the complex remains owned by Russia and is under the control of the Russian military.
Minsk cannot buy the missile systems on its own, meaning Moscow expects something in return; for example, the permanent presence of the Russian military in Belarus at the nuclear weapons storage base. In November 2019, Zas, then-secretary of state of the Security Council of Belarus, said that Russia proposed to place an air force base in Belarus in exchange for assistance in acquiring 12 Su-30SM fighters. In telephone conversations in February 2022, Lukashenko and Putin assured French President Emmanuel Macron that they were not going to deploy nuclear weapons to Belarus. However, by March 2023, the situation had changed for Putin. His war against Ukraine is failing and support for Ukraine from the West is holding firm.
That led to Putin's announcement that nuclear weapons will be moved to Belarus along with the Iskander missile system, and that 10 Belarusian aircraft would be equipped to carry nuclear weapons. In addition, it was announced that the construction of storage sites for tactical nuclear weapons would soon be completed. Realizing that nuclear weapons are a sensitive topic for the U.S. and Europe, Putin sees this as a significant card to play in his conflict with the West. Putin hopes the U.S. will recognize the threat posed by nuclear weapons in Belarus and agree to Moscow's conditions in Ukraine. Putin does not say when nuclear weapons will be in Belarus and for how long. This is meant to maintain permanent pressure on the West while allowing Putin to step back from the delivery if the war ends on his terms.
Consequences
The Russian Foreign Ministry says this is not about transferring nuclear weapons. The Russian Defense Ministry says it will maintain control over the storage, movement, security and safety of nuclear warheads in Belarus. Thus, according to Moscow, the NPT will not be violated. As of April 2023, there was no information about the possible movement of nuclear warheads from Russia to Belarus. However, the appearance of nuclear-capable carriers such as the Su-24 and Iskanders in Belarus will inevitably raise questions about the type of warheads on their missiles. No international treaty limits tactical nuclear weapons.
The Iskander is a dual-use system capable of carrying nuclear and conventional warheads. Dual-use weapons have common technical and operational features. Their deployment in Belarus is dangerous because there is no safe way to exclude the installation of nuclear warheads on nonnuclear missiles, and no reliable way to distinguish between a nuclear and a nonnuclear warhead after launch and before hitting the target. Thus, Russia is blurring the differences between conventional and nuclear weapons to complicate an enemy's response calculations. Even without the deployment of nuclear warheads, Moscow creates a threat level close to that if they were actually deployed.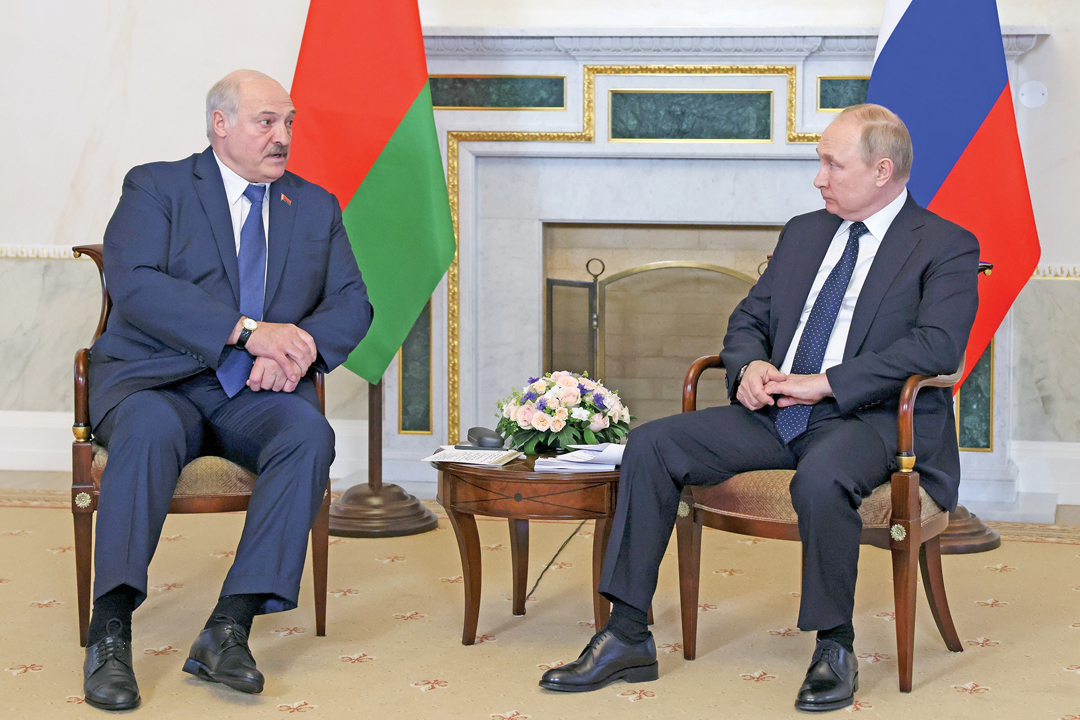 Cultivating ambiguity carries the risk of an unintended escalation of conflict because of the potential misunderstanding of the enemy's goals and the potential consequences of strikes inflicted by dual-use systems. In addition, an armed attack on Belarus, as a member of the Union State, would be considered an attack on Russia. This probably lowers the threshold for the use of nuclear weapons by Russia. Putin seems not to trust Lukashenko, and because of this he will probably delay the deployment of nuclear warheads to Belarus. However, Russia has made Belarus completely dependent. Russia can complete a storage base, and deliver nuclear warheads and service them, increasing the risk of a nuclear conflict. Regardless of the type of warhead, Russia's nuclear-capable carriers will be closer to NATO territory, and a significant number of European territories will fall under potential strike range with a short flight time.
Countermeasures will be required to ensure the survivability of potential Iskander targets in Europe. It is likely that NATO may have to consider a preemptive strike if preparations for a launch are identified. However, even a strike by conventional weapons can carry the danger of nuclear escalation. Tactical nuclear weapons can be accidentally attacked because they are located on the same bases as general-purpose forces and weapons, and their carriers are dual-use delivery vehicles. While tactical nuclear weapons can act as a deterrent to conflict, they also pose a great risk during a crisis.
For Russia, from a military perspective, the deployment of nuclear weapons in Belarus does not make a lot of sense. For example, the targets for tactical nuclear weapons may be missile launch silos and radar systems in Poland and Romania. But those targets can also be hit by cruise missiles fired from submarines and Russia-based aircraft. In addition, weapons can be deployed to Kaliningrad and other western regions of Russia. Therefore, the possibility of nuclear weapons deployment in Belarus is primarily a political question. The threat of placing nuclear weapons in Belarus will continue to be used by Moscow as a form of blackmail to achieve its goals in the region.