Cooperation is essential to European and global security

 
By Lt. Gen. Hans-Werner Wiermann, German Bundeswehr, NATO International Military Staff director general
"NATO is the strongest and most successful Alliance in history. It guarantees the security of our territory and our one billion citizens, our freedom, and the values we share, including individual liberty, human rights, democracy, and the rule of law. We are bound together by our common values, enshrined in the Washington Treaty, the bedrock of our unity, solidarity, and cohesion. We commit to fulfilling our responsibilities as Allies accordingly. We reaffirm our adherence to the purposes and principles of the United Nations (UN) Charter. We are committed to the rules-based international order. We commit to reinforce consultations when the security or stability of an Ally is threatened or when our fundamental values and principles are at risk."
— Brussels Summit Communiqué, June 14, 2021
Today, NATO faces multifaceted threats, systemic competition from assertive and authoritarian powers, as well as growing security challenges to our countries and our nations' citizens from all strategic directions. The evolving security environment increasingly requires us to address threats and challenges through the use of military and nonmilitary tools in a deliberate, coherent and sustained manner.
Russia has turned from partner to competitor and continues to challenge the rules-based order across domains, regions and functions. NATO's relationship with Russia is at its lowest point since the Cold War ended, and Moscow's aggressive actions are a threat to our security. The Brussels Summit Communiqué cautions: "Russia's growing multi-domain military buildup, more assertive posture, novel military capabilities and provocative activities, including near NATO borders, as well as its large-scale no-notice and snap exercises, the continued military build-up in Crimea, the deployment of modern dual-capable missiles in Kaliningrad, military integration with Belarus and repeated violations of NATO Allied airspace, increasingly threaten the security of the Euro-Atlantic area and contribute to instability along NATO borders and beyond."
NATO nations and partners continue to face the challenges of violent extremism and international terrorism. The 20th anniversary of the 9/11 attacks in New York and attacks in New Zealand and Israel demonstrate that no nation is safe from terror, especially while the Islamic State group and other terrorist groups continue to operate. There is growing instability in the Middle East and Africa, displacing entire communities from their homes and countries in pursuit of safety and security. The dramatic developments in Afghanistan — the complete collapse of the Afghan government and infrastructure and the subsequent takeover by the Taliban — surprised the world. These are a bitter turn of events for the whole international community.
In addition, the continued rise of China is fundamentally shifting the global balance of power. China is heating up the race for economic and technological supremacy, investing in new military capabilities and increasing the competition over our values and way of life. China is rapidly becoming a dominant global player, including in the international security environment, while implementing its military modernization and expanding its nuclear arsenal with more warheads and a larger number of sophisticated delivery systems. NATO allies are concerned by China's coercive policies, which stand in contrast to the fundamental values enshrined in the Washington Treaty. China is a great power that does not share our values.
Deterrence and defense remain crucial to our security and continue to drive forward NATO's ongoing adaptation. Since 2014, the Alliance has undertaken the biggest adaptation in a generation — strengthening its collective defense by enhancing its ability to defend all allies on land, at sea, in the air, in cyberspace and in space, and by responding to new challenges. While NATO has remained a pillar of stability for more than 70 years, we must continuously ensure that the Alliance remains credible, coherent and resilient in the face of a changing security environment. NATO must prepare for a world of growing geopolitical and systemic competition and advancing authoritarianism.
At the 2019 summit in London, allied leaders asked the secretary-general to carry out a forward-looking reflection process to further strengthen NATO's political dimension, including consultations. Two years later, in Brussels, allied leaders agreed to launch the NATO 2030 initiative — a trans-Atlantic agenda for the future. Additionally, the allies consented to strengthen NATO's relationships with like-minded partners and international organizations. To that end, the leaders agreed to enhance NATO's ability to contribute to preserving and shaping the rules-based international order in areas that are important to allied security. NATO will increase its dialogue and practical cooperation with existing partners, including with the European Union.
"Throughout its history, NATO has continuously adapted to a changing security environment. The NATO 2030 agenda complements and builds on our ongoing political and military adaptation, strengthens our ability to deliver on the three core tasks and contributes to making our strong Alliance even stronger and ready for the future. … The NATO 2030 agenda sets a higher level of ambition for NATO. It provides clear guidelines for further adaptation to address existing, new and future threats and challenges, building on the ongoing political and military adaptation of the Alliance."
 — Brussels Summit Communiqué
Built on a foundation of common interests and challenges, NATO-EU cooperation has grown into a strong and mutually beneficial partnership. This relationship was initiated in the 1990s and institutionalized a decade later with the 2002 NATO-EU Declaration on European Security and Defence Policy. This milestone set out common political principles and reaffirmed the EU's access to NATO's planning capabilities for its own military operations. In 2003, the "Berlin Plus" arrangements set the basis for the Alliance to support EU-led operations in which NATO as a whole is not engaged.
At the 2010 Lisbon Summit, the allies underlined their determination to improve the NATO-EU strategic partnership. The 2010 Strategic Concept committed the Alliance to work more closely with other international organizations to prevent crises, manage conflicts and stabilize post-conflict situations. One of the key tenets of EU-NATO cooperation remains the single set of forces. This means that common members need not have two sets of capability requirements to support each organization, but only a single set to ensure efficiency and avoid duplication.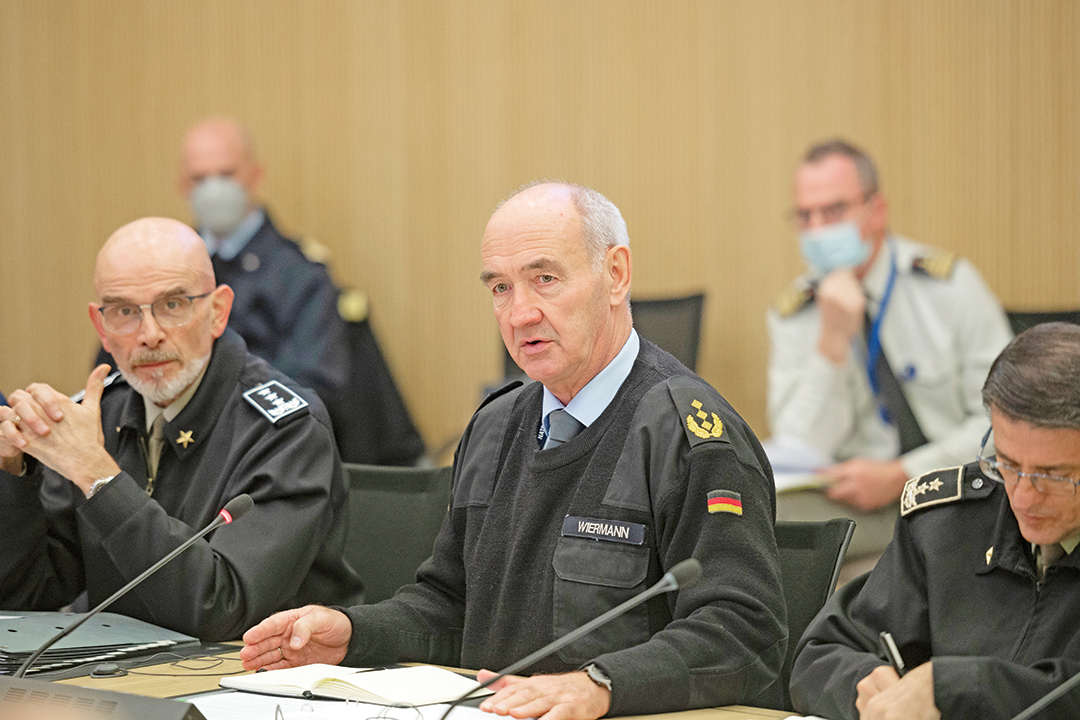 Each subsequent NATO summit has further enriched this cooperation. In Warsaw, in July 2016, the two organizations outlined areas for strengthened cooperation in light of the common emerging security threats to the east and south, including countering hybrid threats, enhancing resilience, defense capacity building, cyber defense, maritime security and exercises.
Two years later, in Brussels, both institutions agreed, through a joint declaration, to focus on areas such as military mobility, counterterrorism and strengthening resilience to chemical, biological, radiological and nuclear risks, as well as promoting NATO's Women, Peace and Security agenda. Today, NATO-EU cooperation includes 74 projects to promote European security, capacity-building, crisis management and training.
Over the past five years, the two organizations have developed a closer cooperation, focused on concrete results and improved security for European citizens. The importance of this unique and essential partnership was further emphasized during the 2021 Brussels Summit, where allied leaders highlighted the tangible results of cooperating on hybrid and cyber threats, strategic communications, and operational cooperation (including maritime issues, military mobility, defense capabilities and defense industry), and on research, exercises, counterterrorism and defense, and security capacity building. The development of coherent, complementary and interoperable defense capabilities remains key for the two organizations' joint efforts to make the Euro-Atlantic area safer.
"The European Union remains a unique and essential partner for NATO. The NATO-EU strategic partnership is essential for the security and prosperity of our nations and of the Euro-Atlantic area. NATO recognises the importance of a stronger and more capable European defence. The development of coherent, complementary and interoperable defence capabilities, avoiding unnecessary duplication, is key in our joint efforts to make the Euro-Atlantic area safer. Such efforts, including recent developments, will lead to a stronger NATO, help enhance our common security, contribute to transatlantic burden sharing, help deliver needed capabilities, and support an overall increase in defence spending."
— Brussels Summit Communiqué
Bridging the gap between NATO and the EU has been an important element in the development of an international, comprehensive approach to crisis management, especially for the COVID-19 crisis, which has required the application of military and civilian means. This crisis has shown the key role that militaries can play in support of national civilian efforts and the importance of NATO mechanisms to coordinate assistance. Across the Alliance and the EU, national armed forces have been supporting the civilian response, deploying military medics to assist overrun civilian facilities, constructing almost 100 field hospitals, evacuating patients and repatriating citizens, securing borders, and helping with testing and transport of medical supplies. The pandemic has seen the largest peacetime military deployment in history.
Furthermore, allied leaders underscored the requirement to deepen this cooperation through the full implementation of the common set of 74 proposals. These contribute to coherence and look at evolving security challenges, such as resilience, emerging and disruptive technologies, the security implications of climate change, disinformation, and growing geostrategic competition. Allied leaders also recognized that the ongoing distinct strategic processes within NATO and the EU offer an opportunity for further intensification of consultations and cooperation between the two organizations.
As NATO marks the fifth anniversary of its Enhanced Forward Presence mission in Estonia, Latvia, Lithuania and Poland — the embodiment of a reliable deterrence and defense posture — the ongoing work between the two institutions on military mobility has been essential. Military mobility is a logical and critical step for NATO's 21st century conventional defense and deterrence posture. Improved military mobility in Europe is key to a more credible deterrence and defense posture and has become one of the flagships of EU-NATO cooperation. NATO and EU staffs continue to work together not only to ensure a coherent and complementary approach, but also to achieve synergies wherever possible, including military mobility-related procedures that apply to all allies equally.
The Brussels Summit Communiqué recognizes that an important aspect of this comprehensive approach, with respect to ensuring enablement of the Supreme Allied Commander Europe's (SACEUR) area of responsibility, has been to reinforce NATO's efforts to ensure a coherent approach and synergies with the EU in the area of military mobility, including military mobility procedures that should apply to all allies equally. Through legislative measures, the simplification of procedures and diplomatic clearances to enable rapid crossing of borders on land, in the air and at sea, NATO has been able to improve the readiness of its forces, as well as increase their ability to move within Europe in peacetime, crisis or conflict.
NATO and the EU featured military mobility for the first time in a set of common cooperation proposals laid out in the joint declaration signed by their political leaders in December 2017. Since then, NATO and the EU have adopted several engagements on military mobility at the highest political levels. Both organizations emphasized the importance of NATO-EU cooperation for military mobility at the EU Foreign Affairs and Defence Ministers meeting in June 2018, as well as in the July 2018 and 2021 NATO Summit Communiqués. Military mobility has been a cornerstone of NATO-EU cooperation with strong expectations from a number of allies in terms of deliverables.
Throughout 2018 and 2019, NATO and the EU shared their respective military requirements for infrastructure. Following NATO's transmission of its updated infrastructure parameters to the EU in March 2019, the EU Council approved an update to the transport infrastructure parameters and the geographical data of military requirements within and beyond the EU in July 2019. Furthermore, NATO agreed to the public disclosure of its standard regarding transportation of dangerous goods to support the EU's work in this area. In early 2021, the Alliance transmitted its maps of NATO Main Supply Routes — representing roads and rails used to move forces and materiel from, though and to allies' territories — to the EU to help ensure coherence and avoid duplication. Because NATO and the EU largely rely on similar military forces and capabilities, these maps will allow for stronger synergies between the two organizations.
Continuing their collaboration, staffs of the respective networks exchanged national points of contact for military mobility. On the one hand, NATO provided its single national Points of Contact list in a whole-of-government approach for the national regulations and civil arrangements, as established by the NATO Civil Emergency Planning Committee. On the other hand, the EU provided the EU Member States' National Points of Contact list for military mobility, developed by the EU Military Staff. Furthermore, NATO is establishing a 24/7 Movement Control network between NATO and national entities that includes civil and military sectors. The network will operate in peacetime with the capability to surge during crisis or conflict.
With NATO's reliance on a rapid-reinforcement strategy to defend its eastern flank, strong and enduring military mobility capabilities are even more essential for Europe's defense and deterrence posture. Essentially, ensuring that the Alliance's defense capabilities are mobile, rapid and survivable reduces the likelihood of conflict. By strengthening force enablement and military mobility, NATO can bolster its security posture for decades to come, ensuring a credible deterrence and defense posture in the long term.
With NATO fully committed to a 360-degree defense approach, efforts to enhance mobility must focus not only on the threat to the east and north, but also address the south and the growing rear-area security concerns of allies in Central Europe. Due to this outlook, NATO and the EU now generally recognize that their strong cooperation is critical to develop a coordinated military and civilian solution to potential threats.
Therefore, strong cooperation between NATO and the EU is essential to support military mobility. The dialogue on military mobility brings together relevant NATO and EU staffs and has contributed to information sharing in key areas of military requirements, including transportation infrastructure, transportation of dangerous goods, customs, cross-border movement permissions, communication (command and control) and communication information systems. This engagement will continue to facilitate coherence and mutual reinforcement of efforts to improve military mobility as well as achieve synergies and efficiencies wherever possible.
A key element is the institutional challenge facing both organizations and the difference in their missions and priorities. While NATO is primarily focused on deterrence and defense and emphasizes military logistics and sustainment in geographical Europe, as SACEUR's area of responsibility, the EU is focused on the conduct of civil-military crisis management beyond Europe and on commercial rules, regulations and infrastructure development inside Europe. Due to these differences, NATO and the EU have a common responsibility to establish the conditions needed for the movement of forces throughout Europe. Furthermore, 21 nations belong to both organizations and must address military mobility as a part of their own national political processes, while balancing competing priorities from two separate organizations. In addition to the aforementioned challenges hampering cooperation activities, moving forces also presents a common challenge for both organizations.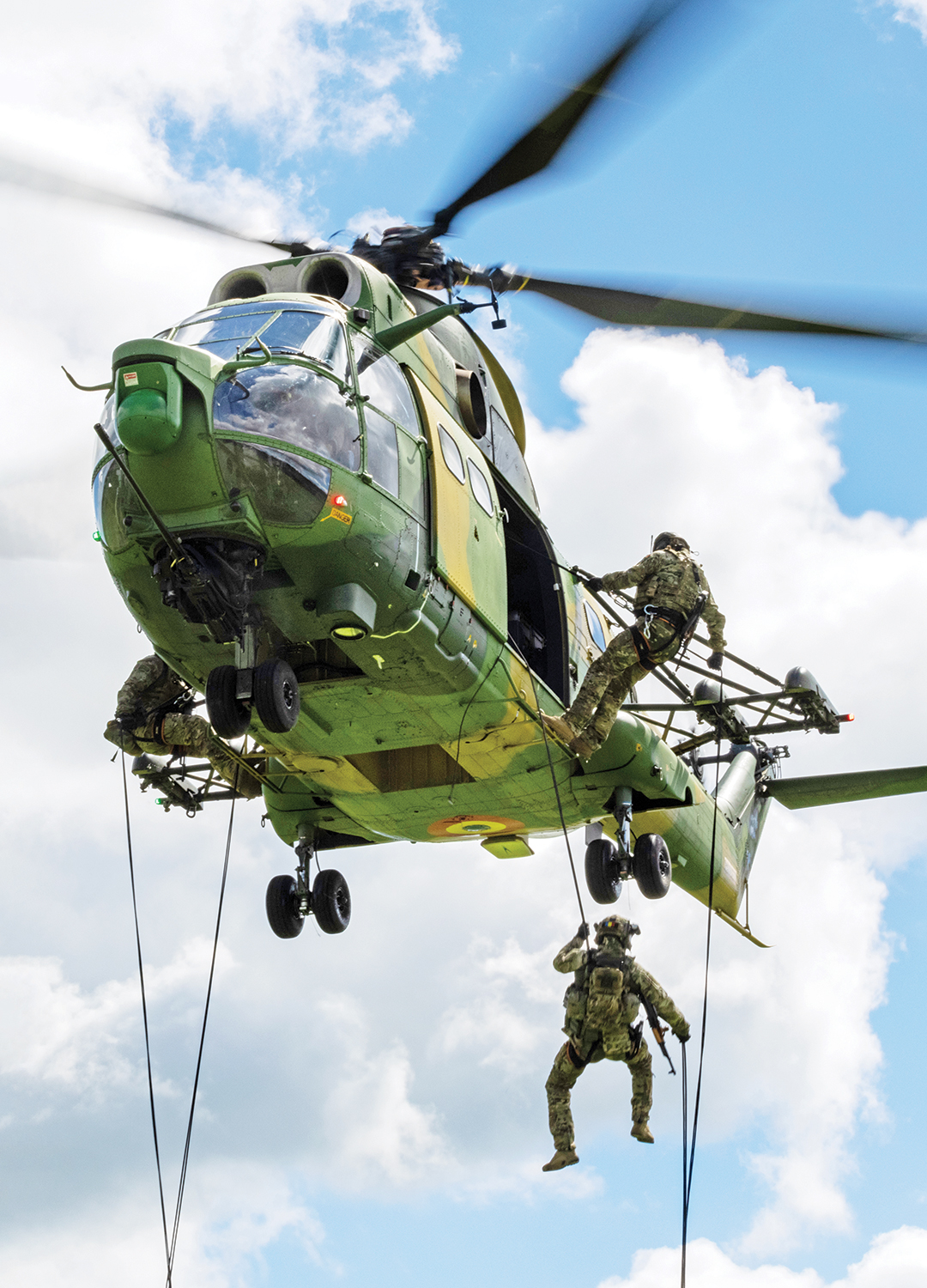 NATO is facing obstacles in four major fields when addressing military mobility. The first challenge is framed by national authority and legislation. It is essential that all allies establish a cross-border movement approval process and lift existing restrictions in national legislation. In this arena, NATO has implemented a legal framework through technical arrangements signed by all allies and some Partnership for Peace nations. Encouraging allies to facilitate forces' movements in Europe allows the armed forces to cross borders and territory (including airspace) at the relevant speed required for every NATO operation, mission or operational commitment. Authorization for movement of dangerous goods, such as ammunition, is a particular challenge in this field. NATO recognizes the EU's significant role in alleviating customs, legal and administrative procedures to reduce the time required to move military cargo across Europe, owing to the role of civilian institutions and organizations in the management of transport infrastructure and transport capabilities.
The second challenge is the command and control organization. Command and control remains key to manage the flow of different types of forces and materiel. All those very particular movements require seamless coordination, be they military or civilian actors. The existing and continuously improving military movement network is part of the global command and control network. As mentioned previously, NATO developed a single national points of contact network at the political level to support coordination between military and civilians. They are the entry points for deconflicting movement request issues and are responsible for processing them within their respective nations.
The third challenge is the capacities of military and civilian assets. Moving troops with their materiel requires the support of civilian companies, institutional and private. Coordinated planning of deployment and sustainment flow allows NATO to avoid competition between nations amid limited capacities and increasing costs. It is necessary to deconflict military requirements to balance between the need and availability of national capacities.
The fourth and last challenge is infrastructure, which has suffered since the end of the Cold War. Upgrading existing transportation infrastructure, such as port facilities, railroads, roads and bridges that can support the weight of military equipment, and all supporting infrastructures (e.g., accommodations, parking) for troops hosted in Europe represents a financial burden for the allied nations. One prominent example is the difference in the gauge of railways in Western Europe and Eastern Europe.
Despite these obstacles, military mobility efforts are improving. With respect to the EU's Trans-European Transport Network, initiated to develop transportation infrastructures to connect Western and Eastern Europe, three of the nine EU transportation corridors are of particular relevance to NATO for deployment, reinforcement and sustainment of forces. Moreover, the Multiannual Financial Framework 2021-2027, which also covers military mobility, provides a key opportunity for those allies that are also EU member states to propose projects that meet NATO requirements. Therefore, the Alliance needs to ensure that the transportation infrastructure addresses the military needs of both organizations to the greatest extent possible.
In addition, NATO encourages all allies or groups of allies to propose creative solutions and share best practices for overcoming bureaucratic processes when moving troops and materiel. As a good example, the Netherlands has taken the initiative to support elements of NATO's enablement work with a military mobility focus. NATO believes this could contribute greatly to achieving the alignment of workstrands, processes and procedures because the Netherlands is also leading the EU's Permanent Structured Cooperation project.
NATO also welcomes the request by Canada, Norway and the United States to participate in the EU project on military mobility. The numerous threats that Europe and North America are facing have highlighted the need to stand together. The EU Council has agreed to NATO's request to be informed about discussions and decisions regarding the three countries' participation. This contributes to exchanging knowledge, experiences and best practices between both organizations to improve transport infrastructure, strategic lift capacity, command and control, cyber and network resilience, and military transit procedures.
Lastly, efforts are ongoing to identify projects in which standardization could be harmonized. NATO invites EU staff to participate in the NATO Standardisation Staff Group, thus providing another forum to harmonize efforts to advance interoperability and to avoid duplicating development of standards.
For the past 30 years, this partnership has grown, promoting peace, security and economic stability while avoiding duplication. This is partly due to a better understanding of the role of each organization, but also because there has been a flexibility to adapt and evolve. To improve on the delivery of their respective missions, NATO and the EU have undertaken a process of self-examination to ensure they remain fit for purpose. For NATO, it takes the form of the NATO 2030 process, which aims to provide a more integrated approach to resilience, more investment in technology, closer partnerships and a focus on the security implications of climate change. For the EU, the Strategic Compass will strengthen common European security by defining future threats, goals and ambitions in defense. But most of all it is an opportunity to align and expand our ambitions for NATO-EU cooperation, to look to the future together and develop a common understanding of the challenges and opportunities that we face.
"NATO is an Alliance that constantly modernises and adapts to new threats and challenges. NATO is also adapting as an institution. … We will continuously pursue greater coherence, improved effectiveness, and new efficiencies, in support of the flexibility and responsiveness we need as an Alliance."
– Brussels Summit Communiqué
Editor's note: This article was completed prior to Russia's illegal escalation of aggression against Ukraine in February 2022. Lt. Gen. Wiermann's term as director general of the NATO International Military Staff ended in July 2022.